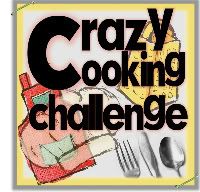 As soon as I saw that March's
Crazy Cooking Challenge
was for spaghetti and red sauce, I knew I was on the lookout for a Bolognese sauce, because we
love
a good Bolognese sauce. And by "good Bolognese sauce" I mean something that resembles the
classic Bolognese sauce registered by the Accademia Italiana della Cucina
, which is made with skirt steak, pancetta, carrot, celery, onion, tomato puree, milk, white or red wine, salt and pepper. Experience tells me it must be served with a splodge of ricotta and sprinkle of shredded fresh basil. Ideally, it should be served on a bed of tagliatelle, but I find that impossible to buy locally.
I found many promising recipes and actually went so far as to try a few, but even though I dallied with others, I knew "
Spaghetti Bolognese
" by Bobbi's Kozy Kitchen was the recipe I would go with in the end. It had everything I wanted -- even the splodge of ricotta --
and
dried mushrooms.
This was proper Bolognese.
Spaghetti Bolognese by Bobbi's Kozy Kitchen (reproduced with permission)

2 ounces dried porcini mushrooms, wiped of grit
¼ pound pancetta or slab bacon, finely chopped
1 onion, finely chopped
2 celery stalks, finely chopped
2 carrots, finely chopped
5 garlic cloves, minced
2 tablespoons extra-virgin olive oil, plus more for drizzling
2 bay leaves
2 sprigs rosemary
1½ pound ground pork

[2 pounds lean ground beef]


1½ pound ground beef

[1 pound ground pork]


2 cups milk

[heavy cream]


1 (28-ounce) can crushed tomatoes
2 cups dry red wine

[Little Penguin Merlot]


Kosher salt and freshly ground black pepper
1 pound spaghetti
Freshly grated Parmesan, for serving
1 handful fresh basil leaves
Fresh ricotta cheese




Reconstitute the mushrooms in boiling water for 20 minutes until tender, drain and coarsely chop.


Puree the mushrooms, pancetta, onion, celery stalks, carrots, garlic, together in a blender.

[I used my food processor and whizzed it all 'round until it looked like pate].

In a heavy-bottomed pot add olive oil, bay leaves, herbs and cook gently until fragrant, then add vegetable puree and continue to cook for a further 5 to 10 minutes.

[I wasn't sure whether to leave the herbs in or take them out, so opted to leave them in]

.
Raise the heat a bit and add the ground pork and beef; brown until the meat is no longer pink, breaking up the clumps with a wooden spoon

[it is very important to break the meat into the tiniest clumps possible as, despite being full of meat, this sauce should be very smooth]

.
Add the milk and simmer until the liquid is evaporated, about 10 minutes. Carefully pour in the tomatoes and wine and season with salt and pepper. Bring the sauce to a boil, then lower the heat and cover. Slowly simmer for 1 1/2 to 2 hours, stirring now and then, until the sauce is very thick. Taste again for salt and pepper.

[Remove bay and rosemary].

When you are ready to serve, bring a large pot of salted water to a boil, add the pasta and cook for 8 to 10 minutes or until tender yet firm. Drain the pasta well and toss with the Bolognese sauce.




Serve with a good scoop of fresh ricotta cheese and garnish with some shredded basil, grated Parmigiano and a drizzle of olive oil.
Fabulous, just fabulous. A little labor intensive, yes, but well worth it. Lots of flavor, very meaty and rich, and it made the whole house smell delicious as it cooked. The recipe makes an enormous amount of sauce -- especially if, like me, you're "only" cooking for two -- but that's fine because that means there's plenty of sauce left for lasagna, English muffin pizzas,
and
freezing for later!