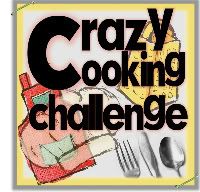 There were
so many fried chicken recipes
I meant to try out for July's Crazy Cooking Challenge, but so few I actually got around to trying. It's been so darn hot and sticky that the mere thought of running my oven filled me with horror. So I kept pushing the CCC off to "tomorrow" and then it was tomorrow and still so darn hot. And then it was July! Oh, no!
(Come September, and cool weather, I assure you I will post a veritable hen house worth of oven-fried chicken recipes).
Surely I could find a nice, simple work night oven-fried chicken recipe? I tried two recipes before I found
Grain Free Oven "Fried" Chicken
at JoAnn's Gluten Free Recipe Archive and knew I had struck CCC gold. Perfectly seasoned, with a crispy-crunchy outside and a moist tender inside?
Yum
.
Grain Free Oven "Fried" Chicken from the Gluten Free Recipe Archive (reproduced with permission)

Ingredients:
2 C almond flour (I used Bob's Red Mill because it's a bit chunky - good texture for breading)
1 C Parmesan Cheese, grated
2-3 tsp Old Bay Seasoning (to taste)

[I used 3 tsp Penzeys Chesapeake Bay]


1 T garlic powder
2 tsp Herbes de Provence (or Italian Herb Mix)

[I used Penzeys salt-free Herbes de Provence]


4 eggs
3 - 3½ lbs boneless, skinless chicken breasts
2 T each butter and olive oil for pan

Directions:
Preheat oven to 350 degrees. Put butter and olive oil in baking pan (should be large enough to accommodate all of the chicken in a single layer, leaving a bit of space between pieces if possible), and place the pan on a rack in the center of the oven. You want the pan and oil-butter mixture to be hot when the chicken goes in.



Butter + oil = delicious

Mix all dry ingredients in a pie pan; beat the eggs in a separate pie pan. Immerse each chicken breast in the beaten eggs, coating well. Next, dredge the chicken in the almond flour mixture, pressing it in with your fingers....make sure each piece is well covered. Remove the hot baking pan from the oven and place the chicken pieces in the olive oil-butter mixture. Try to separate the chicken pieces from each other in the pan if possible.




Bake for about 20 minutes, then turn the chicken and bake for another 20 - 25 minutes depending on the size and thickness of your chicken breasts.
You're thinking "Old Bay and Herbes de Provence? Surely, those flavors do not go together?" Oh, but they
do
and they make for some ridiculously delicious chicken! Way better combination than whatever the Colonel uses.
(I'd worried the chicken might be dry since I was using boneless skinless chicken breasts and wondered if I should have soaked them overnight in buttermilk. But, no, the chicken was perfectly moist and tender without the buttermilk bath!)
Even though I don't cook gluten-free, I look forward to making many other recipes from JoAnn's
Gluten Free Recipe Archive
, because I like good food and she has it in spades. Thanks, JoAnn!